The Castle of Mugnana

Castello di Mugnana in Chianti near Chiocchio
The Castle of Mugnana, near Chiocchio, represents a typical case of the transformation of a castle (actually, a fortified village complete with a parish church, dedicated to San Donato) into a single-family, private residence. This took place at the moment when, during the 14 C, the structures of Mugnana castle, along with those of Sezzate castle, its neighbour opposite across the valley, became part of the assets of the Bardi family of Florence. The castle tower, originally 60 m high, and the current large curtain walls have been attributed (perhaps wrongly) to the Bardi. However, all of these structures existed in one form or another prior to the 14 C. The height of the tower was reduced when the advent of artillery rendered high towers a liability.
Mugnana Castle was damaged during the siege of Florence (1530) and also in 1896, when an earthquake caused the destruction of the upper part of the watch tower, further reducing its height.

Despite various renovations and restoration works that have adapted many internal structures to the "mediaeval" taste of the 19 C, it is still possible to identify traces of the original construction operations involving both the walls and the tower. Around the pietra serena main portal much remains. For example, the masonry is characterised by the presence of a number of medium sized "alberese" limestone blocks with reddish tints, arranged in regular and parallel rows, making the construction of this curtain wall datable to the 8 C.

The parapet of the tower looks rather similar to that of the outer castle wall and, in effect, the perimeter of the tower and the presence of some openings on all four sides of the tower with indented arches of sandstone, date the structure back to at least second half of the 13 C, while the battlements of the walls and the gallery connected to them at the top are the result of a recent reconstruction, probably 19 C.

The courtyard of the palazzo is very atmospheric. It is enclosed by three buildings including a gallery with polygonal stone pillars that support a very smooth masonry, consisting of squared, well-worked blocks of sandstone that could be dated back to the first half of 13 C and one with vaulted brick rebuilt with a typical 19 C taste.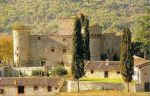 More about the Castles of Chianti.
Chiocchio © ammonet InfoTech 2005 - 2020. All rights reserved.